Making Healthcare Easy and Affordable
Our Roseville therapists partner with insurances and neighboring healthcare providers in the community to ensure your counseling needs are met in the most efficient way possible. Regardless of your insurance or financial situation, we have flexible payment plans in place so that nothing can stop you from getting the help you or your loved one needs.
Our Roseville office is located at:
18303 E 10 Mile Rd, Suite 200 Roseville, MI 48066
Directions
If you or a loved one is seeking professional counseling in or near Roseville, Michigan, our experienced counselors and therapists are ready to offer a helping hand. Great Lakes Psychology Group's Roseville office is conveniently located at 18303 East Ten Mile Rd, Suite 200, Roseville, MI 48066.
Great Lakes Psychology Group offers convenient and flexible evening and weekend appointments and accepts most insurance plans. We also offer the ability to verify your insurance benefits online prior to scheduling your first appointment. Schedule your first appointment with convenient and easy online scheduling, or, call us today at (800) 693-1916 to schedule an assessment.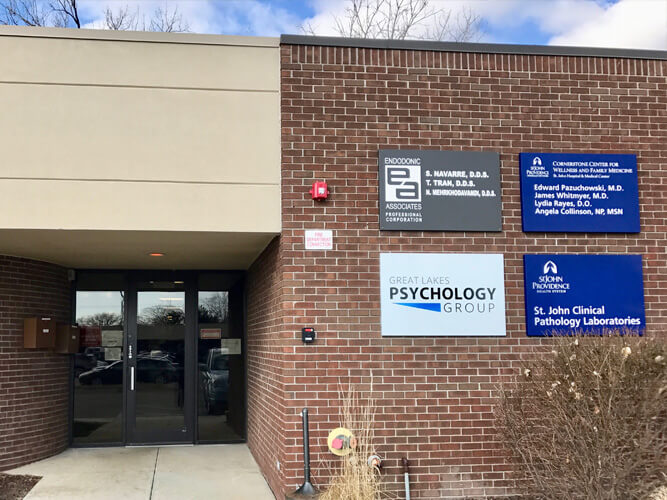 Our Roseville clinicians are skilled doctoral and master's level psychologists, social workers, professional counselors, and marriage and family therapists with extensive experience treating children, adults, couples and families. We specialize in treatment and psychotherapy for a wide variety of problems, concerns, and issues including marital dissatisfaction, depression, anxiety, behavioral and learning problems, substance abuse, PTSD, grief, chronic pain/illness, eating disorders, ADHD and more. We have successfully treated thousands of adults, children, families, and couples in the Metro Detroit area, and have distinguished ourselves in our commitment to accessible, affordable counseling for the residents of Roseville, St Clair Shores, Fraser, Eastpointe, Warren and the surrounding communities.

We are committed to serving the Roseville community by offering high quality, effective counseling services. Our patients are our top priority. We provide exceptional customer service throughout the counseling and therapy process, with complete confidentiality. Our caring and professional staff are standing by to help you take the first step. Contact us today.
" Booking my appointment was made very easy with the online form. The reception-less waiting area is very nice and private."