Making Healthcare Easy and Affordable
Our Shelby Township therapists partner with insurances and neighboring healthcare providers in the community to ensure your counseling needs are met in the most efficient way possible. Regardless of your insurance or financial situation, we have flexible payment plans in place so that nothing can stop you from getting the help you or your loved one needs.
Our Shelby Township office is located at:
13001 23 Mile Rd, Suite 103 Shelby Township, MI 48315
Directions
Great Lakes Psychology Group offers professional counseling services at our conveniently located Shelby Township office at 13001 23 Mile Rd Suite B Shelby Twp. MI 48315. Our staff includes master's and doctoral-level psychologists, social workers, professional counselors, and marriage and family therapists with advanced training in mental health, child psychology, and relationships. Our extensive experience covers specialties such as: counseling for depression, anxiety, behavioral and learning difficulties, marital dissatisfaction, substance abuse, PTSD, and more. The experienced therapists at Great Lakes Psychology Group help hundreds of couples, families, children, adolescents and adults each year. We prioritize building and maintaining relationships and providing the best possible service to our patients. Our goal is to help our patients improve the quality of their lives, and learn how to cope with the stress and problems that come with everyday life. With plenty of highly trained and skilled professional counselors, psychologists, social workers, and marriage and family therapists to choose from, it's easy to find the perfect fit at GLPG.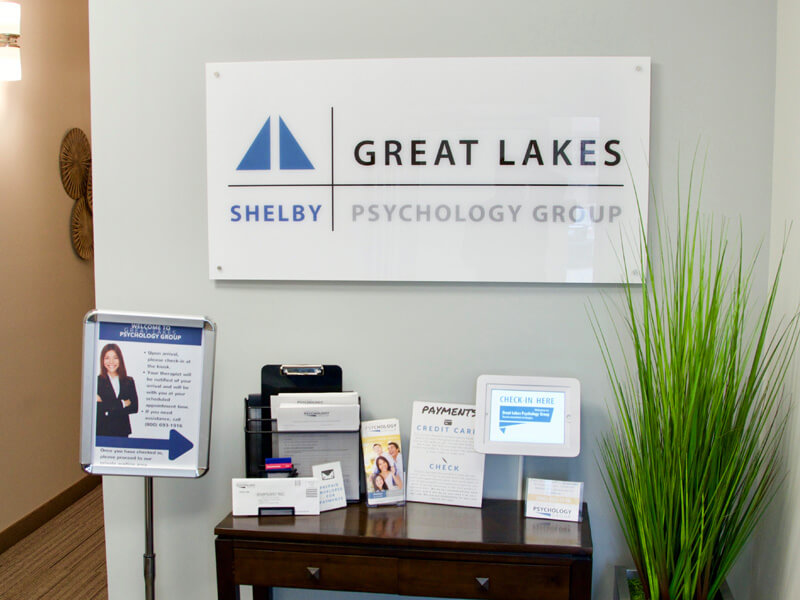 At Great Lakes Psychology Group we accept most major insurance plans. We also offer convenient weekend and evening appointments to accommodate our client's availability. We welcome you to call us today at (800) 693-1916 or schedule your first counseling appointment online. Our priority is ensuring that our patients are provided with the best service and professionalism throughout treatment.
" Booking my appointment was made very easy with the online form. The reception-less waiting area is very nice and private."