Pandemic
How to Protect Your Relationship in Quarantine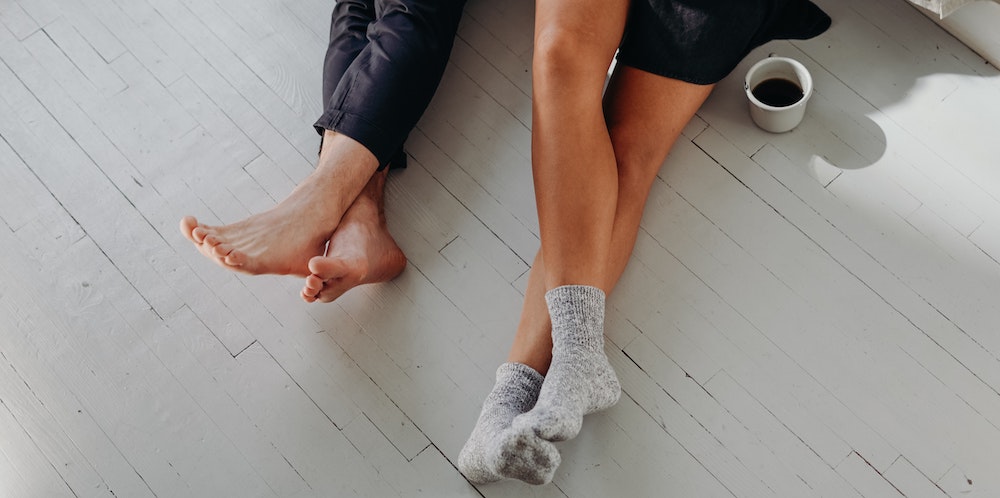 With stay-at-home orders in place, we are spending unprecedented amounts of time at home, and in turn, with our partners. Most couples are not accustomed to spending this much time together, and some may find themselves bumping up against new challenges lately. 
There's a great deal of uncertainty surrounding the pandemic, leaving many feeling stressed about health, finances, parenting, and more. Under these circumstances, we have fewer emotional resources to work through our interpersonal problems productively. In all, it's understandable if you and your partner have had more arguments than usual.
Of course, there is a difference between arguments and abuse, and the guidelines listed here are intended for those in safe relationships. If you are in an unsafe situation at home, the National Domestic Violence Hotline is operating 24/7. For help, call 1-800-799-SAFE or text LOVEIS to 22522. In an emergency, call 911.
Increased tension with your partner in these unprecedented circumstances does not have to mean your relationship is doomed. Like with every major adjustment, it will take some creative solutions to get on track.
Here are five important guidelines for protecting your relationship in quarantine:
1. Continue Solo Activities
Just because you have more time to spend together doesn't mean you need to spend ALL of your time together. Everyone needs some alone time – even extroverts. 
Time alone allows you to think more clearly and solve problems more effectively; it improves productivity and concentration, and it gives you an opportunity to check in with yourself so you are more in tune with what you need. 
When you're taking care of yourself, you're helping your relationship, too. In times of uncertainty and stress, it's important you don't neglect your mental health. 
Read: 5 Ways to Improve Your Mental Health During a Pandemic
2. Make a Schedule
Staying at home has meant a great loss of structure, something we may have taken for granted before this. It may be more challenging to stick to a schedule at home, but it will go a long way for creating a calming sense of predictability. When you and your partner create a schedule together, you're taking the guesswork out of getting through the day. 
If one or both of you is working from home, working separately but scheduling meal times gives you both something to look forward to and an opportunity to check in with each other. If you have kids, you've probably already figured out the importance of coming to an agreement about how to balance childcare with work. And that alone time we talked about? Don't forget to set aside some time for that, too. If you have kids, stagger your alone times so that one of you is in charge of childcare while the other is off duty. When it's scheduled and agreed-upon, you can enjoy your alone time guilt-free.
3. Lean on Other Relationships
Even though we're restricted from coming into contact with friends and family we don't live with, it doesn't have to mean shrinking our social circles exclusively to those we do. Keeping in touch with friends and family in whatever way you can will not only benefit your wellbeing, it will protect your relationship by taking the pressure off your partner to be "everything" for you in a time of social scarcity. 
For thousands of years, our ancestors have thrived in large groups, and it's only relatively recently in the history of humans that we have been living in single-family homes. In the words of world-renowned couples therapist Esther Perel: "As almost all of our communal institutions give way to a heightened sense of individualism, we look more frequently to our partner to provide the emotional and physical resources that a village or community used to provide." 
Now, we are facing total restriction of physical access to our communities, and our partners cannot provide the resources of an entire community. If we expect them to, we are creating a breeding ground for resentment. Schedule video chats with your friends and family. Join a virtual book club. If you haven't already, check to see if your neighborhood has a Facebook group. It's important to nourish all of your relationships and stay connected with your community however you can right now. 
4. Learn Communication Strategies
Even with all this in place, it's normal and expected that couples will experience conflict from time to time. Navigating conflict in your relationship is a skill that takes practice. In a similar way that a musician or athlete needs to practice their craft repeatedly so that they are able to perform when emotions are high, so too do couples need a playbook for communicating in the midst of strong emotions. 
Read: 3 Tips for Managing Conflict in Your Relationship
5. Get Help
Learning these communication strategies can be challenging without help. Meeting with a couples therapist is a proactive and effective way to nourish your relationship. Contrary to what is often portrayed in movies and TV, couples therapy is not about negotiation, ultimatums, or declaring right and wrong. Couples therapists aim to help couples understand their patterns of interaction and the emotions underlying these patterns so both parties feel heard and understood.
Being stuck at home doesn't mean you're out of luck when it comes to getting relationship help. With hundreds of licensed therapists, most insurances accepted, and attentive support staff ready to schedule you, GLPG makes it easy to get started with online therapy.
Click here to learn more about the online services we provide.
Ready to prioritize your mental health?
Great Lakes Psychology Group is here to help. With an extensive network of caring therapists available to meet online or in-person, we make it easy to find the right fit for your unique needs.